Do the Right Thing
Do the right thing even when no one is looking. Our teams act with integrity.
Embrace Change
Change with purpose and strive for better results, every time.
Get It Done
Execute confidently. Be proactive, thoughtful, and accountable.
Keep It Simple
Strive for simplicity. Deliver value in a straightforward way.
Thrive Together
Collaborate and succeed as a team, united for a greater purpose.
Value Everyone
Hire the best and celebrate our differences by creating a workplace of inclusion and acceptance that rewards diverse perspectives.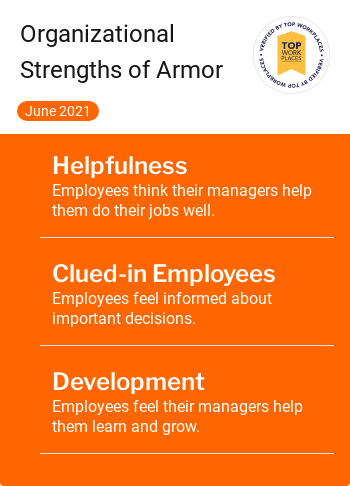 Exceptional Benefits
Supporting our Heroes at Work and Home
The overall well being of our employees and their families is important. Armor provides many valuable benefits, programs, and tools to help manage the various phases, developments, and priorities in your life.
Remote work culture
Medical, dental, and vision insurance plans with concierge services
Open PTO policy in addition to holidays
401K plans, matched
Home office stipend
Competitive salary
Veteran's Policy
Armor was founded and built by those that have served in all military branches and values all armed service members. The honor and character they gained through their military career are the foundation of our core values and Armor is committed to helping America's military veterans find work.
Equal Opportunity Employer
Armor is committed to creating a workplace free from discrimination. Armor provides equal opportunity in all employment matters to applicants and employees without regard to race, color, religion, gender, national origin, age, disability (including pregnancy), genetic information, sexual orientation, transgender/gender identity, marital status, or status as a covered veteran in accordance with applicable federal, state and local laws and ordinances.