It's no secret that the cloud provides a range of business benefits: agility, scalability and cost savings. But while there's a lot of excitement about the cloud, there isn't much data about whether organizations are actually reaping these benefits and how cybersecurity is impacting cloud adoption. So here at Armor, we decided to investigate for ourselves. We asked more than 800 respondents from the U.S. and U.K. to tell us about their cloud initiatives.
Our Findings
Results clearly show that companies are interested in the cloud with hybrid cloud solutions being the most popular and preferred cloud deployment model (38%). In a close second, 32% said that the private cloud is most important, while shockingly only 9% said the same of public cloud. Yet many companies are lagging in cloud adoption. 58% have not yet deployed in the cloud, and only 16% use cloud heavily. Still, companies recognize the benefits of the cloud; common reasons include the desire for global connectivity (39%), allowance for rapid change (29%), and ease of collaboration (20%).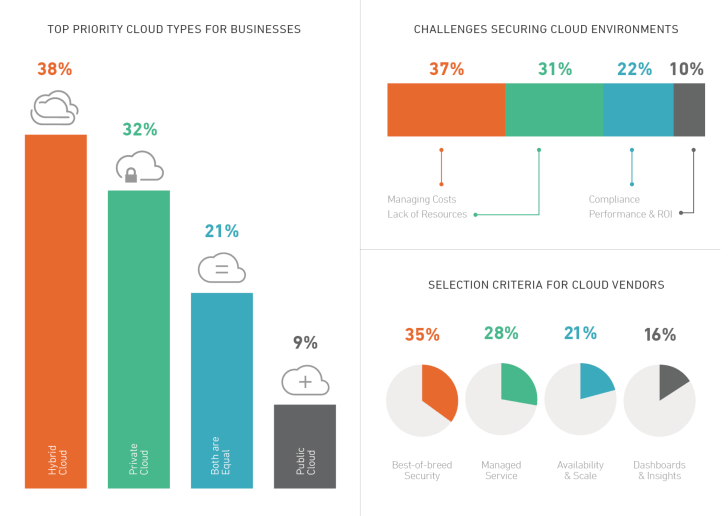 Examining our results – one conclusion became quite apparent. Concerns regarding cybersecurity is the leading factor for why so many companies are slow to migrate. Major challenges for ensuring cybersecurity were managing costs (37%) and lack of resources (31%)  Organizations are also worrying about a range of different data risks: insider threats (31%), BYOD (26%), and unpatchable devices (24%). To compensate, many companies are beginning to view third-party outsourcing as the best way to meet cybersecurity needs. In fact, 43% use a third-party vendor exclusively, and 37% use a combination of third-party services and an in-house team. Only 20% rely exclusively on in-house experts.

So What Does All This Mean?
Armor's survey results indicate that while the cloud remains a buzz-worthy topic in the business world, most organizations are still struggling to find their footing when it comes to deployment and management. Even though they know they can reap major benefits, cybersecurity concerns loom large, and many organizations simply don't feel as though they're currently able to migrate safely – especially considering new technology developments such as BYOD and continual headline-worthy attacks from advanced threat actors. No one wants to be next to have their brand splashed across TV networks and face the reputational and financial repercussions because their migration and cloud management plan wasn't air tight.
However, we think the answer to these concerns is quite simple. A lot of the cloud confusion is rooted in a fundamental lack of knowledge or misunderstanding of the Shared Security Responsibility Model. According to our survey, 50% of businesses don't know anything about shared responsibility, while 24% say they don't fully understand it. When organizations are building out their cloud migration and management action plan, they need a clear understanding of this model. By definition, shared responsibility is a cloud security framework that dictates the security obligations of a cloud computing provider and its users to ensure accountability. When an organization runs and manages its own IT infrastructure – whether on premise or in private cloud – it is responsible for the security of that infrastructure, as well as the applications and data that run on it. However, when an organization moves to the public cloud or a hybrid cloud environment, it hands off some – but not all – of these security responsibilities to a cloud provider. Thus, each party (cloud provider and cloud user) is accountable for different aspects of security and must work together to ensure full coverage.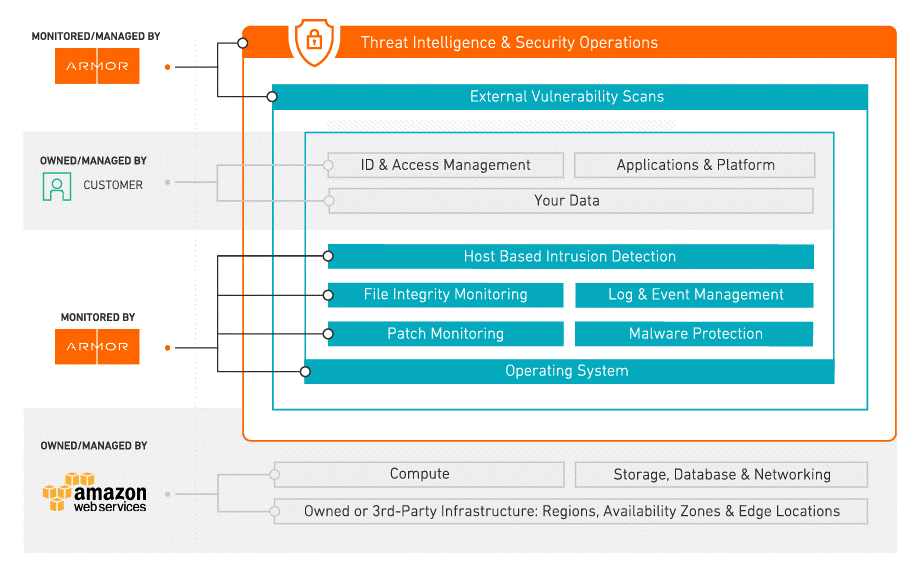 At Armor, our clients can easily deploy our agent-based technology to their cloud environments, which subscribes them to our cloud-based security service in the backend. Our cyber security experts constantly monitor client environments and leverage threat intelligence feeds to protect against threat actors at every possible level.  There is no doubt that security in the cloud can be a scary thought. But with us, that's all it has to be – is a thought. Our actions and continual client reporting allows you to migrate to the cloud with full confidence that your data is secure, and better yet, uncompromised.
Learn about our complete offerings at: Products Overview.
For more information on our poll series, download the full at: #ArmorU report.