When you consider all the moving pieces of your cloud security strategy—people, tools, processes, regulatory issues, etc.—is the total cost of ownership sustainable for your business? Do you have the right talent and tools in place to monitor, detect, and respond to threats in real time, 24/7/365?
With limited budget and resources, companies are cobbling together ad hoc solutions that may lead to costly errors, inefficiencies, and vulnerabilities. The 2018 Alcide Report found that 73% of security professionals are still configuring application security policies manually, and often using multiple security solutions to manage cloud exposures. In fact, 22% of large enterprises (those with more than 1,000 employees) use 10 or more different security solutions at a time, potentially slowing down critical business initiatives.
While moving data to the cloud brings significant benefits—enabling companies to cut costs, encourage collaboration, support a mobile workforce, and safeguard data in case of power outages or other emergencies—it brings its own set of risks, as companies still lack the proper resources to manage cloud security.
Struggling to keep up with today's demanding threat landscape, companies large and small are relying on Security-as-a-Service (SECaaS) providers to protect their networks in a cost-effective manner. Today, we'll dive into why businesses should consider employing a SECaaS solution to secure their virtual environment.
The Security-as-a-Service solution
SECaaS solutions are comprehensive, system-wide solutions to cloud-based vulnerabilities. SECaaS integrates a complete suite of security services into a single platform, tackling cybersecurity issues across the entire enterprise.
SECaaS monitors the security of users' infrastructure, whether in the public cloud, on premise, in a private cloud, or within a hybrid infrastructure that includes elements of each. It provides log management, threat detection, security controls tools (intrusion detection system (IDS), malware protection, vulnerability scanning, etc.), and compliance capabilities—all for a low-cost, monthly software subscription. In many cases, SECaaS solutions are more cost-efficient than staffing, equipping, performing, and managing in-house security functions.
Why you might need Security-as-a-Service
For resource-constrained organizations, SECaaS and other managed services are an appealing option. In fact, technology research firm Gartner estimates that by 2021, at least half of small and midsize enterprises will use managed services to secure their infrastructure, which is up from less than 20% today.
On par with this prediction, we're currently finding that organizations are moving to SECaaS protection for their cloud-based data for a variety of reasons, including:
Understaffing and talent shortage. Over half (51%) of organizations face a cybersecurity skills shortage, according to ESG IT. Additionally, the demand for cybersecurity talent is increasing exponentially, with 3.5 million cybersecurity jobs needing to be filled by 2021.
Inability to prioritize or respond to all alerts. Nearly a third (31.9%) of IT professionals admit to ignoring alerts due to the high frequency of false positives.
Managing too many tools. The average enterprise uses 75 security products to secure their network, far too many to effectively monitor.
Resource constraints by the board. SECaaS solutions can be far less expensive than maintaining your own cybersecurity team.
No dedicated team/DevSecOps. Only 45% of businesses have a security team solely dedicated to cloud functions, and some 35% of organizations actually turn to either DevOps or DevSecOps teams for security.
The growing threat landscape. Between new technology, the sophisticated threats deployed against them, and the vast resources required to defend against cybercriminals, companies are finding that it's easier to outsource their security needs.
Choosing a SECaaS provider
If the aforementioned struggles sound all too familiar, it's probably time to start looking for a SECaaS provider to help defend your environment. In addition to cost-efficiency and reliability, look for a provider that offers:
Vulnerability Scanning
Threat Detection and Response
Log Management and Monitoring
Malware Protection
Intrusion Detection
24/7/365 SOC Services
Audit-ready Compliance
Armor's SECaaS product for cloud security, Armor Anywhere, provides:
Access to the latest tools, without having to worry about updates – Our system includes FIM, IDS, malware protection and more.
Top security talent working on your behalf – Our team is made up of expert security professionals with many years of civilian and military cybersecurity experience.
Fast turn-up – We are able to install security controls in a single day
Less in–house management – You can focus your teams on doing what you do best: building applications to grow your business
Here's how Armor compares to a traditional MSSP: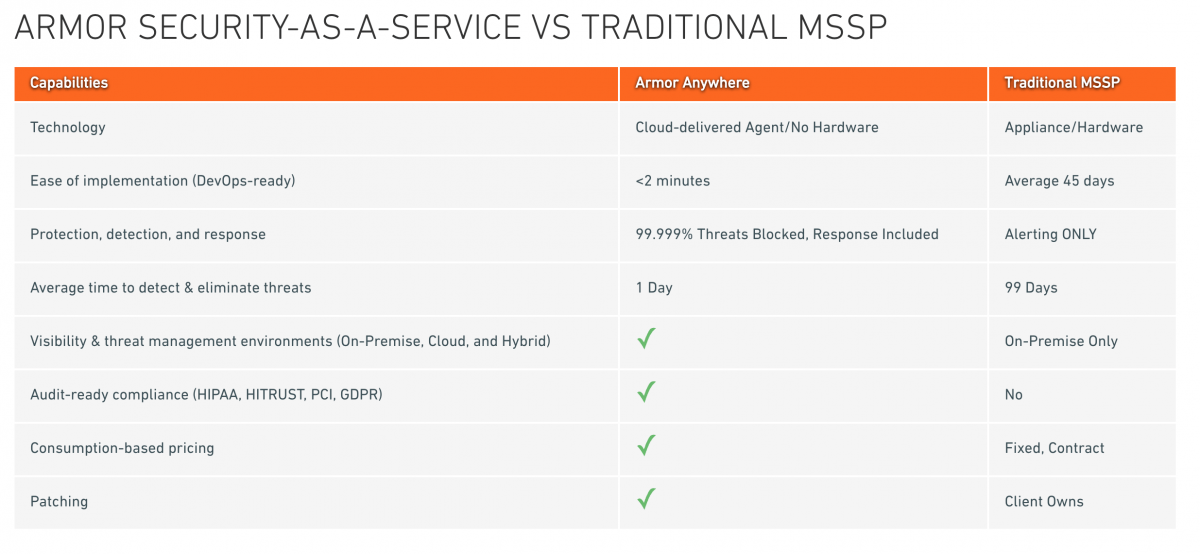 Want to learn more about how Armor Security-as-a-Service can protect your data, reduce your IT team's workload and save your organization money? Visit the Armor Anywhere page here and reach out to an Armor expert for more information.