Thinking about moving to the cloud? You're not alone. By 2022, according to Gartner, the cloud will reach the dominance phase of the digital disruption scale—that is, adoption by most enterprises. The cloud will affect not only technology but whole industries, business, and society itself.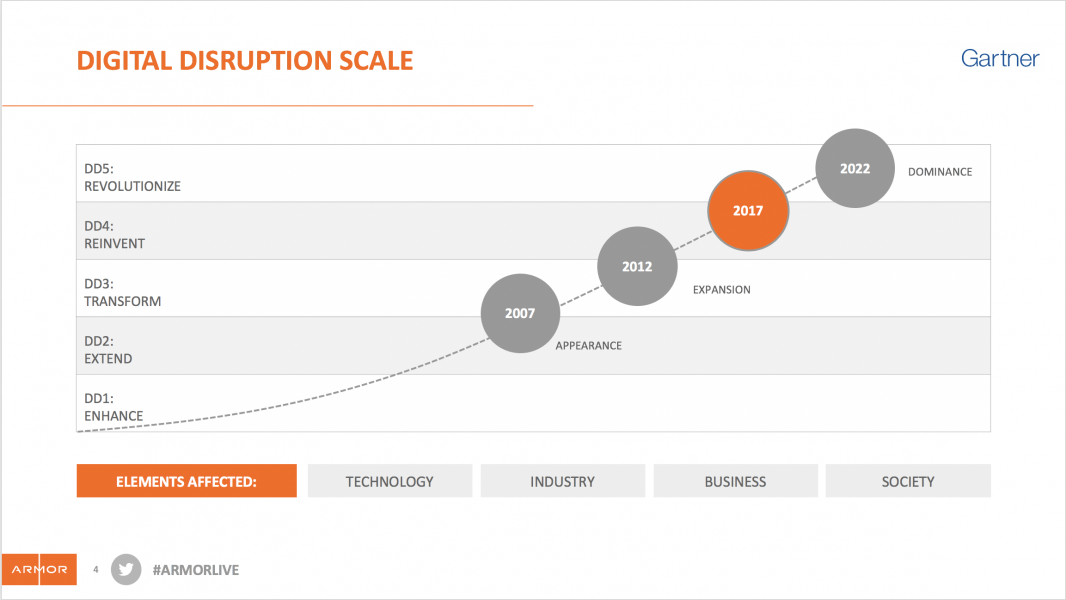 That transformation has already started. RightScale's State of the Cloud Report finds that 96% of enterprises are using the cloud in some capacity, and 81% are using a multi-cloud strategy. Companies are discovering that using the cloud is not an all-or-nothing decision. They have begun an incremental transformation with some of their workloads in the public cloud, some still on premises, and others in the process of migrating to a hybrid cloud infrastructure.
Companies are looking for dramatic results from their investments in cloud technology. About two-thirds (63%) of organizations surveyed in the LogicMonitor Cloud Vision 2020 report said they were turning to the cloud to transform their businesses. A similar amount (62%) believed that greater cloud engagement would heighten their IT agility. Yet, while cloud technology promises many benefits, it's important to make the move in a safe, well-planned fashion. In this blog, we'll discuss the advantages that cloud migration promises—and best practices for making the move.
Why Migrate to the Cloud?
Companies are discovering that moving to the cloud has tangible, bottom-line benefits. The 2018 IDG Cloud Computing Survey found that speed and flexibility were the top reasons why organizations were migrating to the cloud, but there were a whole host of other advantages as well, as noted in the chart below: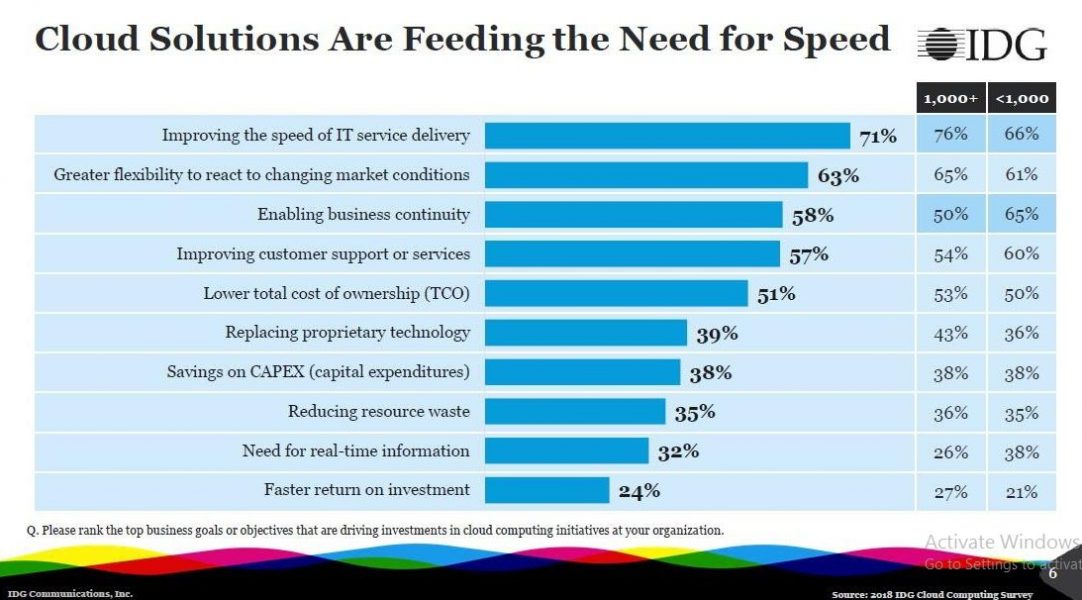 Moving to the cloud does require some planning, however. Organizations must decide whether they want to simply move existing systems as they are—the "lift and shift" paradigm—or redesign them from the bottom up to take maximum advantage of the cloud's potential—the "redeploy/rearchitect" approach.
The "lift and shift" approach is faster and preserves an infrastructure that is similar to what organizations already have on premises. The "redeploy/rearchitect" approach takes longer but it adopts DevOps early and creates customized solutions that take advantage of cloud-native architectures and services (containers, serverless, and PaaS or SaaS offerings).
Regardless of which approach your organization takes, you'll have to plan carefully to make sure that you are meeting compliance needs and pursuing a secure and scalable move to the cloud. Be aware of the risks of moving data from a physical location to a cloud environment (see chart below), and take steps to protect your data in the transition.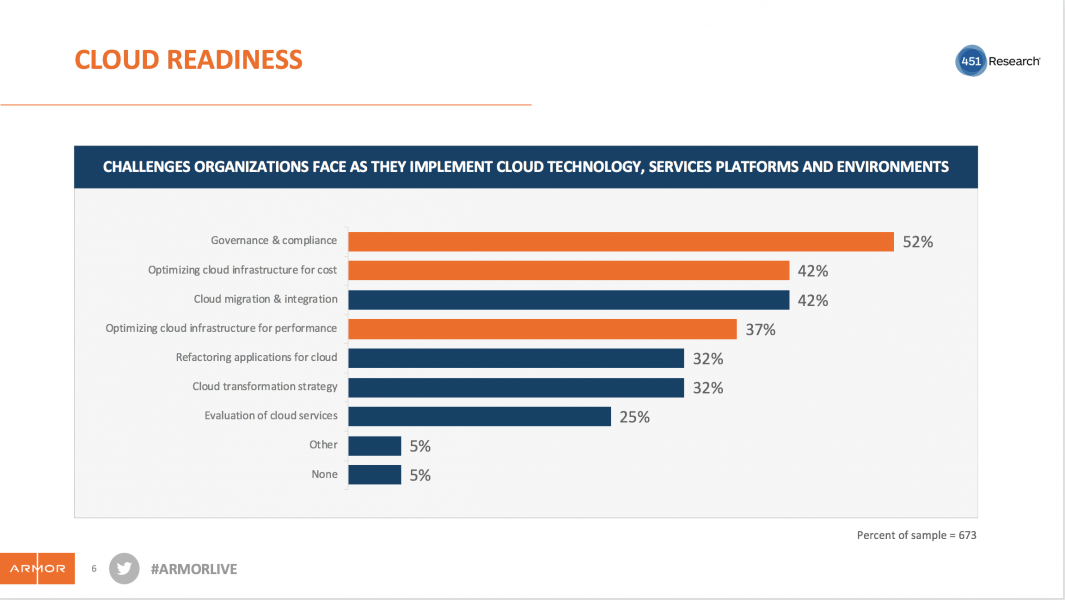 5 Tips for a Painless Migration
Any change in your IT infrastructure can be disruptive—and moving to the cloud is no different. You can minimize the headaches by following these 5 tips.
Define your migration goals: Are you looking to achieve great speed in your IT operations? Do you want to be able to respond more nimbly to changes in technological capabilities? Is your main goal improving the customer experience—or enhancing internal efficiencies? Understanding what you want out of your cloud migration is the first step toward implementing it.
Embrace DevOps in the cloud: DevOpsgives you the tools and ability to deliver applications and services faster, giving you a competitive edge over organizations using traditional software development and infrastructure management processes. It's important to build security into your DevOps capabilities right from the start, making it an integral part of your infrastructure, rather than an add-on capability.
Take advantage of the Amazon Partner Network: Amazon Web Services (AWS) can provide your organization with computing power, storage, networking, and databases on demand. In addition, their partner network is filled with security partners, cloud migration, transformation consultants and tools, and cost-optimization and monitoring organizations to help operate in the cloud successfully.
Leverage native AWS tools to lessen the burden of operations: From data warehousing to deployment tools, directories to content delivery, more than 50 services are available in just a few mouse clicks with AWS.
Learn and make informed decisions: Cloud technology is continually evolving, providing organizations with new capabilities and tools. Stay on top of what the cloud offers by working with partners like Armor.
How the Security of Your Cloud Migration Can Make or Break Your Business
Moving to the cloud exposes organizations to risk as threat actors are also now targeting cloud-based systems. In fact, in a recent analysis conducted by our research team, there were 681 million attempted cyberevents against our more than 1,200 clients in 2018. The most frequent types include threats toward known software vulnerabilities, brute-force attacks/attacks involving stolen credentials, web application attacks (e.g., SQL injection, cross site scripting, cross site request forgery attacks, and remote file inclusion), and attacks targeting the internet of things (IoT). Furthermore, Gartner estimates that 95% of cloud security failures will be the customer's fault by 2020.
These attacks can be costly—the latest survey from IBM/Poneman found that data breaches in 2018 cost an average of $3.86 million per incident and $148 per exposed record. In addition to the direct costs of remediation, organizations may also incur long-lasting damage to their reputation and relationships with customers. This can, in turn, drive revenue down as clients seek what they perceive to be safer products and services from competitors.
Armor's Automated Security and Compliance offering can help companies manage these risks. Our automated solution defines risks based on your organization's distinct profile, taking into account your compliance requirements, the latest intelligence about risks in your industry, and your organization's business and operational requirements. After defining risk policies, our system makes sure that all cloud users adhere to those policies as well as alerts you to user actions that create risk (for example, leaving an important file folder open to the public internet or failing to use two factor authentication to access a box). Putting a system like this in from the beginning can help decrease risks a company associates with moving to the cloud in the first place.
Move to the Cloud—While Managing the Risks
Cloud-based IT infrastructures offer organizations unparalleled opportunities for speed and flexibility—but getting to the cloud can be a headache. Armor can help you make your transition as safe, secure, and painless as possible. Get in touch today to find out how we can safeguard your migration to the cloud.